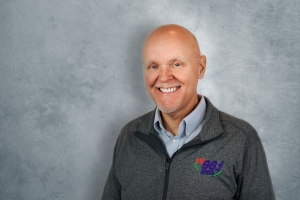 All About Scott Stine:
Born Cass City, Michigan June 13, 1963
I always knew I'd be in radio. At age 8, I remember picking up a Wolfman Jack countdown show out of Canada. After that I was hooked!  Listened to WTAC, CKLW, WKNX, WHNN and WTRX growing up.  I remember sitting in the living room watching TV and at the same time, have ear plugs connected to a radio.  Sounds silly, but I just loved listening to radio.  Any kind of radio. 
Odd jobs before radio: garbage man (my Dad owned a sanitation route), worked on a farm baling hay and straw,  and I pulled chickens one summer (if you have ever done that job,  you know how much fun that job was!) Thankfully, I got into radio!
I enrolled in the Specs Howard School of Broadcast Arts in Southfield, MI. in Nov. 1981.
First radio gig: part-time weekend guy from 1979-81 at WKYO/WIDL in Caro. Worked in the horrible state of Ohio for about a year. Came back to Michigan and worked in Ionia for a few years.  In August 1985 was hired at WHNN Sunny 96 in Saginaw (thank you to Ken Carson and the great Dan Stewart!)   I was thrilled to join the station that once rocked Mid-Michigan and that I grew up listening to.  We were an adult contemporary station when I joined.  Then we flipped to Oldies. Now we have returned to Adult Contemporary.  

Stats:
Hometown: Cass City, Mi. "Astronaut Brewster Shaw is also from Cass City. He got a salute on a billboard heading into town. What did I get? A friendly wave goodbye as I left town!"  Haha.  Actually, I still have family there and it was a great small town to grow up in.  Go Red Hawks!
Birthday: June 13
Education: Graduated from Cass City High School. Class of 1981. Go Red Hawks!
Marital/family status: Married to the best darn woman ever….her name is Karen. We have 2 incredible girls….Shelby and Haley. Truly the joys of my life!
Favorite music:  Chicago, REO Speedwagon, Doobie Brothers, anything from Motown and, my guilty pleasure, I like some of the bubblegum pop music of the late 60's and early 70's (i.e. The Archies, The Sweet, Andy Kim)
Hobbies: Watching everything NASCAR. Plus, just hanging out with my family. Isn't that what it's all about?
Favorite Sports teams: The Tigers and Wings!  For college, I always cheer on MSU and U of M!  But when they play each other, I lean Green & White.   
Favorite foods:  Home made pizza!  And I've never met a salad bar I didn't like.  
Favorite TV Shows:  This Old House….so I find out how much I DON'T know about fixing things.   And lovin' the Food Network these days…I like to eat I guess.
Click here to send an email to Scott!
---
Scott's Blog
Say the Phrase That Pays and Win on a Free Ticket Friday!… MORE
You've probably noticed by now that a Coke from McDonald's really does taste better than a Coke from anywhere else. And thanks to the folks at Spoon University, we now know why. They did the research and found out these are the five reasons Coke is always best from Micky D's. Storage – They don't have…… MORE
Would've loved to have been at this concert last Saturday at Dodger Stadium in L.A.… MORE
Nominees for the 2017 Primetime Emmys, airing Sept 17 on CBS (8 ET/5 PT): Drama series Better Call Saul, AMC The Crown, Netflix The Handmaid's Tale, Hulu House of Cards, Netflix Stranger Things, Netflix This Is Us, NBC Westworld, HBO Comedy series Atlanta, FX Black-ish, ABC Master of None, Netflix Modern Family, ABC Silicon Valley,…… MORE
Everything you need to know about Amazon Prime Day 2017. We're halfway through the year, which means it's time for Amazon's annual Prime Day. It all began back in 2015 as a way to mark the site's 20th anniversary, and while they're still honing the finer details, if they've listened to customer feedback, this year…… MORE
A new survey by Pets at Home reveals that 66% of pet owners say their dog has eaten something they shouldn't have, check out this list of the worst behaving dogs. – Top 10 Worst Behaved Dog Breeds 1. Labrador 2. Jack Russell 3. Cocker Spaniel 4. Staffordshire Bull Terrier 5. Border Collie 6. Golden…… MORE
Singer Phil Collins has suffered a setback. The 66-year-old slipped in his bathroom on late Wednesday, resulting in a serious head injury.  Early Thursday morning, Collins' team released a statement about his condition on his Facebook page, detailing to his fans what happened. "Phil suffers from 'drop foot' as a result of a back operation…… MORE