With special guests…The Verve Pipe
Friday August 12th at 7pm at Wenonah Park in downtown Bay City!
Tickets are $45. All tickets are General Admission



You can also purchase tickets by phone at (989) 892-2660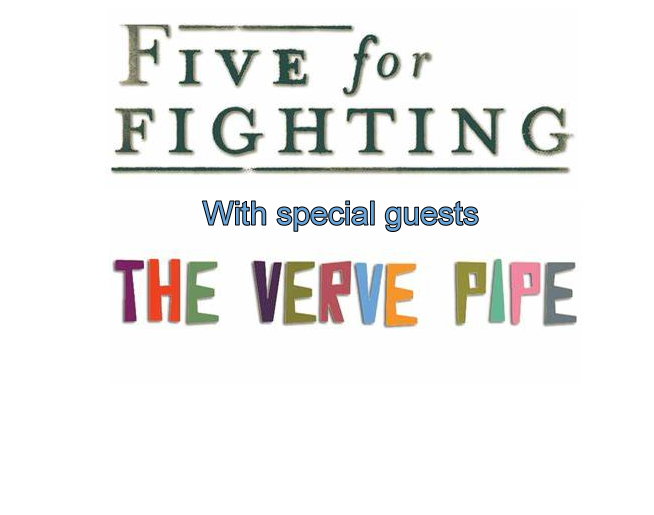 FIVE FOR FIGHTING
Singer-songwriter John Ondrasik has spent the past decade writing deeply personal songs that include social messages, invoke the human spirit and make an emotional connection. With the past six albums by Five For Fighting, the hockey moniker stage name under which he performs, Ondrasik has seen multitudes of successes. Five For Fighting's breakthrough came in 2001 with the Grammy-nominated song "Superman," and John's performance at The Concert For New York.
Ondrasik proceeded to become part of the American songbook with the iconic hit "100 Years," "Superman," "The Riddle," "Chances," and "What If." John's music has been featured in over 350 films, TV shows, and advertisements ranging from The Blind Side to The Sopranos. In 2018 John was the musical voice for the CBS hit show Code Black.
John has also been deeply involved in supporting our troops. From USO tours, supporting several Veteran oriented charities, and distributing over a million "CD for the Troops" to servicemen and their families around the world.
Ondrasik is currently working on a Broadway musical, various television projects, and a new Five For Fighting album while giving keynotes across the country to corporations and various organizations.
THE VERVE PIPE
With a reputation for spectacular live performances, the multi-platinum alternative rock band The Verve Pipe are recognized worldwide for their radio hits Photograph, Hero, Happiness Is, Never Let You Down and the #1 smash single The Freshmen. In addition to their success on radio, TV and film, sold-out concert dates throughout the U.S., Canada, Europe and Australia, features in Rolling Stone, Interview Magazine and many more, and videos on MTV and VH1, the band has made numerous television appearances, including 'The Tonight Show With Jay Leno' and 'Late Night With David Letterman.' Between recording rock albums, including the most recent release Parachute, and their first-ever live album Villains –Live & Acoustic, featuring an acoustic reimagining of their platinum debut album Villains, The Verve Pipe expanded their repertoire to include writing and recording A Family Album, their critically acclaimed introduction to the world of children's music, as well as their follow up family oriented release, Are We There Yet?. With a new lineup and a renewed energy and focus, lead singer/principal songwriter and founder Brian Vander Ark and the band continue to deliver original music that is distinguished by innovative arrangements, soul-searching lyrics and layered vocals. The Verve Pipe perform both rock and kids shows throughout North America, including notable appearances at Lollapalooza, Austin City Limits Festival, Lincoln Center, Hangout Music Festival, Summer Stage in Central Park, and many more.